Cruz Timagada - La Culata - Tejeda
GENERAL DESCRIPTION. After the village of Tejeda itself, La Culata is the second largest settlement in the municipality, with 356 inhabitants.
Given the deep ravines and steep slopes that characterize this area, farmers have had to adapt and raise dry-stone walls to form terraces out of the talus slopes and colluvia, almost the only areas where farming is possible. It is easy to see these terraces throughout the walk.
Another aspect worth highlighting is the vernacular architecture we will encounter, especially in the second stage of our walk, as we approach the village of Tejeda. Some traditional houses were two storeyed buildings. On the upper floor, opening onto exterior gallery, there used to be the kitchen, a living/dining room and the bedrooms; on the ground floor, besides the bathroom there would be a store room, the cheesemaking room and a shed or stable. Near the house there would also be a wood oven/kiln for baking. Obviously, many of these old homes have been reformed and modernized, and though their interior distribution and use have changed, their appearance has largely remained the same.
The church was built in honour of the Virgin of Fátima, who, according to oral tradition, was brought to the village by the priest of San Mateo -on his shoulders!- sometime during the 1950s. The oldest mill in the municipality of Tejeda -over 200 years old- is to be found in La Culata, on the right bank of the Tejeda ravine, at a spot known as "Barranco del Tión". Of all the watermills in Tejeda, it occupied the highest spot inside the caldera. According to J.M. Díaz Rodríguez, author of "Molinos de agua en Gran Canaria, año 1989" (Watermills in the Canary Islands, year 1989) "...the first known owner was Francisco Pérez, who during the last century sold the mill to José Trujillo, who, in turn, sold it in 1927 to Antonio Sarmiento, who had just returned from Cuba with his numerous children. By this time it was already a double mill, with two pairs of millstones and two bins...". The mill has not been in use since the 1960s, it was restored a few years later, but after torrential rains it was partially washed away by the water flowing down the ravine.
Thanks to its several water springs, La Culata is one of the most prosperous farming settlements in Tejeda. The most widespread crops are potatoes, corn, beans and a variety of fruit produce. Almond trees are also important: they blossom in winter, filling the landscape with colour. Almonds are collected at the end of the summer. The men strike the branches with canes and women and children collect he almonds from the ground. In former times this was done over two stages: first the almonds within sight were collected, carried from the fields in baskets and stored away; later, with the help of goats that would clear the grass and shrubs surrounding the trees, those almonds that had been missed the first time were also collected.
The seed of the fruit, what we actually refer to as the almond nut, had to be removed from its skin before Christmas time, so in winter neighbours would get together to peel and crack the almond open. Almonds are the main ingredient of an extensive range of confectionary produced in Tejeda, like bienmesabe (a sweet made mostly of syrup, almonds and egg yolks), marzipan, nougat, mantecados (similar to a crumbling shortbread, but made with almonds and lard), etc. Tejeda's confectionary is renowned throughout the Canary Islands.
Livestock farming -mainly sheep and goats- is a significant complement to farming activity, and it is observable mostly in the neighbourhood of the hamlets of Las Casas del Lomo and Timagada, along the way from Cruz de Timagada to La Culata.
Trail description
Stage 1: Cruz de Timagada - La Culata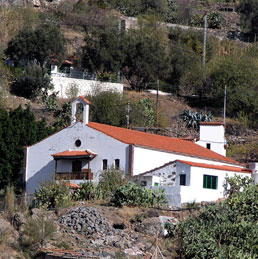 The start of the trail (PR-GC-80) is on the road that links Ayacata with Tejeda, about a kilometre and a half past Cruce del Aserrador in the direction of Tejeda, by a curve (km 9) that we find next to a house with gable and hip roofs. A brief ascent towards the north brings us to Cruz de Timagada, with Roque Nublo high up in the distance.
The trail proper starts here, it is clearly signposted and its initial stretch is well cobbled and flanked by stone walls. To the left of it there are wonderful views of the caldera with the village of Tejeda in the distance. About 200 metres further, a kind of cavity with a cross inside will confirm that we are walking in the right direction. The surrounding flora is made up mostly of brooms, false brooms and almond trees, the latter being rather abundant here.
We come to a crossroads that offers us the choice of carrying on towards La Culata or taking a shortcut towards the village of Tejeda. To the northeast we'll see Roque Bentayga. We go on along a flat stretch of trail towards the east, towards La Culata, with the hamlet of Casas del Lomo below us and, further north, to our left, the village of Tejeda.
We carry on downhill and, by a narrow curve where we turn towards the south east, La Culata comes into view. The cobbled path becomes a bit steeper until we come across a little ravine where saos (Salix canariensis) grow, indicating the presence of water, and where we'll find a spring and a water trough. From here we start to walk uphill again. We eventually come to a stone wall that encloses a farm (the church lies straight ahead) and then walk past a house.
After walking for about 20 metres along a path to our right we take another path to the left. We walk on and when we get to a fork we take the track to the left and walk across a ravine. We walk up the slope as far as the first houses of La Culata, right opposite the bus stop.
Stage 2: La Culata - Tejeda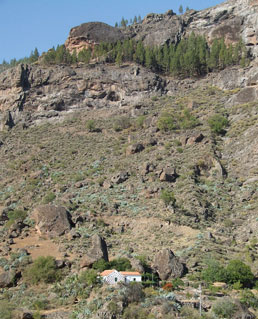 We start off at the church and walk in a northern direction along the tarmacked road; after about a kilometre we come across a narrow curve to the right where, on the left-hand side of the road , two signs point to the path -initially cobbled- we now have to take. We walk downhill, ignoring a turning to the right, come to a concrete path, continue descending for about another 30 metres and take another path we'll find to our right.
We'll come to a flat stretch where another sign points to a track to our left which we take. When we get to a water pipe made of rubble masonry we turn left and we'll find a signpost that tells us we should continue walking downhill. We walk past an old mulberry tree , then cross a ravine and follow a path that runs along a drystone wall, almost parallel to the streambed, as far as a dirt track. We carry on walking downhill along this track until we find a large stone wall to our left that encloses a farm. A few metres on we'll find again the connection that links Cruz de Timagada with Tejeda bypassing La Culata. We carry on towards Tejeda, walking across the ravine bed, as far as the tarmacked road (km 3 GC-60). From here, and after about a kilometre long walk, we'll get to the village of Tejeda.
Additional information about the trail
Canary Island False Broom (Chamaecytisus proliferus)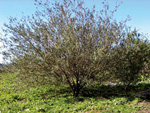 Canary Island False Broom (Chamaecytisus proliferus) It is a leguminous shrub with petiolate leaves and white flowers in axillary fascicles. The fruit is a compressed legume and turns black when ripe. It is widespread on all islands -except for Lanzarote and Fuerteventura- and it favours higher mountain areas where it grows in dense formations that merge with pine forests.
It is also common to see isolated specimens growing among brooms and flatpods. It is an excellent forage plant, and has been grown in farming areas for its nutritious properties -it has even been exported to countries such as South Africa and New Zealand.
Formerly, the most appreciated wood came from almond trees and from the Canary Island false broom. Charcoal burners were aware of its excellent properties, as the charcoal obtained from these species weighed more and their embers burnt for longer than was the case with charcoal obtained from other trees, so their customers were willing to pay higher prices for them.
The chiffchaff (Genus Phylloscopus)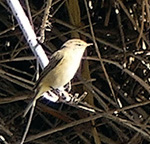 The Canary Island chiffchaff (Phylloscopus canariensis) used to be treated as a subspecies of the common chiffchaff (Phylloscopus collybita) but is now regarded as a distinct endemic species. It differs from the common chiffchaff in that it is smaller (about 10 cm long) and has shorter rounder wings.
It is olive-brown above and it has a buff breast and flanks. Its bill is black and its legs are brown.
It has a rich deep chip-cheep-cheep-chip-chip-cheep song and is usually found in open shrubland areas that are not excessively arid; it is also commonly seen in farming areas or even gardens.
It is a non-migratory species that breeds between January and June. It lays between 5 and 7 eggs which the female incubates for 13 or 14 days. It is a very abundant bird on all the islands except for Fuerteventura and Lanzarote, where another subspecies - Phylloscopus collybita exul- has been described, though this subspecies is thought to have become extinct.
There are other chiffchaff species on the islands, such as the common chiffchaff, the willow warbler and the Western Bonelli's warbler, but they are much less common.
© 2010 Mancomunidad de Municipios de las Medianías de Gran Canaria