Cruz de Tejeda - La Isa - Tejeda
GENERAL DESCRIPTION. The trail starts at one of the most important junctions to be found in Gran Canaria, Cruz de Tejeda, which is, by itself, also a popular spot with those who visit the island's higher mountain region. There is, consequently, quite a wide-ranging choice of restaurants and stalls selling typical products of the area, as well as a rural hotel and a Parador Nacional (Spanish State Inn).
The flora we'll encounter along the trail is made up mostly of brooms (Teline microphilla) and flatpods (Adenocarpus foliolosus), both of which provide the area with a bright splash of yellow in spring. Half way through our itinerary other species become more widespread, such as false brooms (Chamaecitysus proliferus) and bitter spurges (Euphorbia regis-jubae), obvious indicators of the fact that this was a grazing area in the past. On some rock walls we'll also find some rupiculous species.
We will also come across some buildings that reveal what economic activity there used to be locally in the not too distant past. A quarry recalls the building of the road and, further down, in the area around La Isa, we'll see water deposits and farming terraces, most of them currently abandoned, which reflect the fact that agriculture used to be the main economic activity.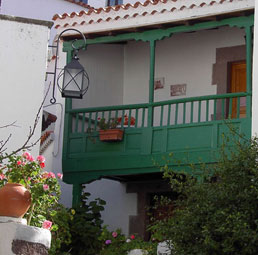 The trail affords extraordinary views. At different points along the walk we'll be able to enjoy the sight of the most outstanding geomorphological features of the Caldera de Tejeda, such as Roque Bentayga, Roque Nublo, El Fraile, La Rana or el Morro de la Fogalera.
Before we come to the end of our walk, just past a cross that is lit at night right above the village, will have the chance to enjoy a panoramic view of the village itself of Tejeda.
Once in the village, we should not leave without first having a wander round its streets and traditional architecture; we should pay a visit to the church of Our Lady of Succour and admire the outstanding woodcarving of the Bleeding Christ, brought to the church in the mid-17th century, as well as other places of interest, such as:
The Tourist Office, at 2 Leocadio Cabrera street. This should be our first stop once we arrive in Tejeda. Here we'll find all the necessary information to make the most of our visit to the village.
The Abraham Cárdenes Museum of Sculpture.It houses a collection of work by this Tejeda-born artist, and other travelling exhibitions of art, sculpture and photographic work by other artists.
Tejeda's Museum of Traditions. It describes in a modern and interactive fashion local traditions and customs.
The Medicinal Flora Centre. Its purpose is to divulge the different uses of the area's most common plants and herbs. The Centre has some wonderful gardens were to stroll at leisure and where to appreciate these plants in their natural state.
The Museo de las Tres Cruces (Museum of the Three Crosses) houses a collection of items related to traditional agricultural work, and it also organizes regular displays of typical farming activities.
The municipality of Tejeda also offers its visitors a wide-ranging choice of accommodation in rural houses, hotels, hostels or camping sites. Again, the Tourist Office can provide those interested with all the necessary information.
Finally, there is also a good range of restaurants in the village, and visitors could do worse than try renowned local dishes such as potages, wrinkled potatoes with mojo (a spicy sauce), pork, ropavieja (a meat and chickpeas stew) and local cheese varieties.
Trail description
Cruz de Tejeda - La Isa - Tejeda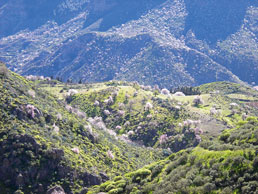 This trail starts right by the stone cross that gives Cruz de Tejeda its name. We should take the wide, initially perfectly cobbled, path towards the south that we'll find between the Asador Grill Restaurant and a small stall selling typical local products. At the first fork we take the path that veers to the right.
The path descends amidst brooms and flatpods, almost in parallel to the road down below. About five minutes later we'll walk across a small ravine. We'll find some rupiculous species hanging from a wall to our left, and a bit further on there is what seems to be a water deposit and possibly a kiln. We walk on and after going down some steps dug into the rock we get to the tarmacked road; we cross over and a further while downhill come to it again, and again we walk on across it and retake our path. If we look uphill now we'll see a quarry that was probably used years ago when the road was built.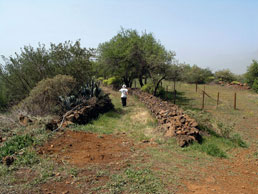 The path runs on, first across a small ravine and among large eucalyptus trees, and later along a stone wall that we leave to our left. From here the views are spectacular, with the Morro de la Fogalera right opposite us and, beyond it, Roque Nublo and El Fraile. To the right lies Roque Bentayga; down below the village of Tejeda and, to the left of it, Casas del Lomo. We go on down this moderate slope, walk across another small ravine and continue downhill.
In this area there is a significant colony of false brooms, which, both on account of their size and density, form attractive copses; we also start to see spurges, an excellent bioindicator that reveals the cattle-related use this path had in the past. Once we get to a tarmacked road that leads to Cuevas Caídas, we turn right. We are only ten metres away from the main road now (GC-156), where we'll turn left. Some 25 metres on we should take a track that we'll find to our right, next to a sign that reads: Finca de La Isa II -ignoring the entrance to the farm on the right.
As we walk along this track, we first leave some houses and terraces to our right, then walk on between some stone walls with some water deposits to the left until we eventually come to a metal fence where we turn left, pass between a stone wall and a house and come once again to the tarmacked road that connects Cruz de Tejeda with the village of the same name.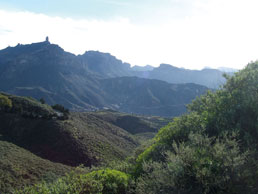 To the left we'll find a track, tarmacked in its first stretch, that leads to a heliport. Before we actually get to it, though, we take a dirt track to the right. We walk downhill with the majestic Roque Bentayga opposite us. Some 200 metres further down, once we get to a small stretch of level ground, we make a 45º turn to the left and continue walking flanked by some stone walls. The flora on both sides of the path is still the same as before, mainly brooms, false brooms and spurges.
The track is now wide and only moderately steep. We'll come to a cross from which we'll enjoy a splendid panoramic view of the village of Tejeda. A small descent from here, on a path that is partially cobbled, will bring us past the old one-room schoolhouse into the village.
Pastry making in Tejeda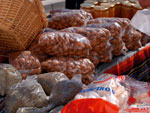 In Gran Canaria in general, but especially in Tejeda, there is a an important pastry making tradition. In fact, a typical Canarian meal always ends with a good dessert.
In Tejeda, the local availability of almonds and honey has given rise to a traditional confectionary based on those ingredients, and the village's almendrados (sweet roasted almonds), marzipan and bienmesabe (see recipe below) are renowned throughout the island. Bienmesabe is not only delicious on its own, but is often had together with other sweets such as ice cream or flan.
To make bienmesabe we should first peel and grind the almonds. We then make a syrup with water and sugar. Once it is ready we add the ground almonds and a little bit of cinammon.
We stir all these ingredients slowly over slow fire until they have reached the right viscous consistency, making sure they do not stick to the pan. We let it cool down, add some well-beaten egg yolks, heat the mixture up again and stir for about five minutes. It is usually stored in a clean glass jar, ready to be had with ice cream, flan, fruit or simply on its own.
The crow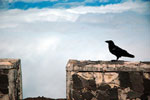 Along this route it is relatively common to spot crows flying above our heads.The crow has a wingspan of between 60 and 70 cm, and its plumage, bill and legs are all black.
Corvid passerines, they live in flocks made up of few individuals, nest in rocky areas or very tall trees and lay between 3 and 6 eggs. They are essentially omnivorous, feeding on other birds, lizards, rodents, insects and other invertebrates, as well as a range of nuts and berries. It is common to see them scrounging off the litter left behind by campers.
They are monogamous birds that form long-term pair bonds, even in winter. Only juveniles live on their own, until they find a mate.
Their proverbial rectilinear flight is particularly elegant. They have a fast wing beat and often execute pirouettes keeping their tail and wings outspread.
They easily grow used to their surroundings, and will occasionally accept food from people if offered.
© 2010 Mancomunidad de Municipios de las Medianías de Gran Canaria