Cruz de Tejeda - Aserrador
GENERAL DESCRIPTION. Cruz de Tejeda is named after the cross found at this crossroads. We don't know when the original cross was first erected, but the current one is relatively recent, it dates from 1971, is made of stone from Arucas and is the work of an artist from Gran Canaria, Santiago Santana.
This itinerary traverses a terrain made up mostly of Roque Nublo cycle (II magmatic cycle) geological material; it is a residual relief essentially characterized by the fact that it lies 1,400 metres above sea level. The most relevant geomorphological units are the following: to the west, the great Caldera of Tejeda, enclosed by a steep escarpment that lies to the right of our trail; to the northeast, near the mountain pass of Degollada de Hoya Becerra, the headwater basin of the Barranco del Guiniguada ravine and, further to the south, Llanos de La Pez and Llanos de Pargana (basaltic rocks), as well as the Roque Nublo agglomerate platform (Roque Nublo breccia).
This is a natural habitat for the Canarian pine tree forest (Pinus canariensis), which not long ago (during the 1950s) was severely exploited, although it has to a large extent recovered thanks to the reforestation programmes that have been undertaken. Los Llanos de La Pez (literally, the Tar Plains), is a place name derived from the time when the pine forests on the mountain tops of the island were widely exploited, as historical records and other place names, such as this trail's point of arrival -Cruce del Aserrador, the Sawyer's Crossroads-, confirm.
Doña Maruca and her husband, don Luis Quintana, who live in the house by the Cruce del Aserrador have told us that "...even during the 1940s and 50s very poor people would come home to my father in law's – don José Toribio Quintana Ramos-, to exchange tar, coal and pine needles for food vouchers... pine needles were later sold to the banana plantations in Arucas, to be used in the packaging of the fruit..."
Don Luis Quintana told us that his father, don José Toribio Quintana, who would work "even at weekends" at a pine forest of his property, would hire muleteers to cut down pine trees which they would then carry on their mules to Tejeda where they would be collected and carried to Las Palmas by lorries.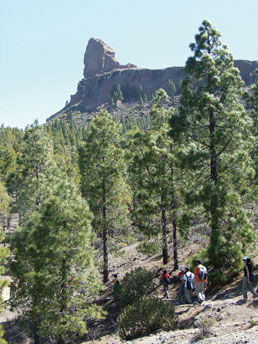 Don Luis explained that "...many doors, windows and balconies in Vegueta were made of this wood...". The old shop -and social meeting point- their home used to house closed down in the 1980s. The old gofio (roasted flour) mill, located about 100 metres away from the house, by the roadside, after the curve when travelling in the direction of Tejeda, is currently crumbling, a forgotten witness to the passing of time.
However, as we have mentioned above, the whole area we are walking through is a natural habitat for the Canarian pine forest, which once covered large extensions on the mountain tops of the island. There are other shrub and subshrub species that have adapted well to this ecosystem such as brooms (Teline microphylla), flatpods (Adenocarpus foliolosus) and false brooms (Chamaycitisus proliferus) -species closely associated to traditional cattle raising-, thymes (Gen. Micromeria) or the mountain wallflower (Erysimum bicolor). The present vegetation differs somewhat from the original one, since a number of non-native species, especially pine trees, were introduced, above all during the 1950s and 1960s.
The fauna we might be able to observe on our walk consists mostly of birds, such as woodpeckers, chaffinches, Canarian buzzards, Western Canary kestrels, ravens, Berthelot's pipits or Canary blue tits.
Trail description
Stage 1: Cruz de Tejeda - Degollada de Hoya Becerra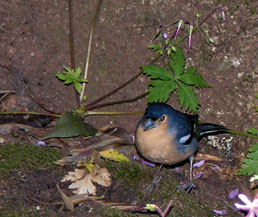 The trail starts at the Cruce de Tejeda crossroads. Between the Asador Grill restaurant and a small stall of typical products there is a wide path, initially cobbled, that runs towards the south.
We take this path and at the first fork we'll go left, and walking among brooms, flatpods and the occasional chestnut tree we'll come to a stone wall that encloses a farm to our left.
This flat stretch of trail offers stunning panoramic views of Roque Nublo, Roque Bentayga, Montaña de Altavista and of Mesa de Acusa, among others. We'll eventually come to a house that we leave behind to our right, following a track towards the south east. At a close bend that turns left we'll take a path that runs in the opposite direction, towards the right, and which will take us to the road. Once there we'll continue walking in a south-south-east direction.
We'll eventually come to a concrete path that leads up to a house to the right of the road. We go up this path but go past the house and, ignoring the narrow trodden track that runs up the hillock, we'll take the path that runs parallel to the road, on its left hand side. This cobbled path, in the middle of which a chestnut tree seems to stand barring the way, will take us to the Degollada de Hoya Becerra.
Stage 2: Degollada de Hoya Becerra - Roque Nublo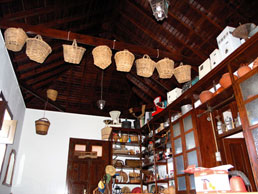 From this scenic viewpoint (a parking area) we'll walk up a poorly defined dirt track towards the south. It is again a flat stretch of trail that runs among pine trees and which will bring us to a house on our left.
Past this house we will find a cobbled track that goes down to La Culata (connection with route 15). We will walk on towards the road and will then walk up a path that runs uphill amidst shrubs, mostly brooms. The ground is somewhat rocky, mainly due to erosion.
Further up, the path runs parallel to a water pipe and through a pine forest as far as a water inspection hatch. From this point on we walk ahead towards the south east, making sure we do not take a different path to the left.
The trail goes on to skirt Montaña del Andén del Toro. We walk past a little cave and we come to another fork. We take the path on the right. It is a wide path that runs among pine trees and will take us to a dirt track. We just walk on across it, always in a south-south-west direction, until we again come across the same dirt track. On this occasion we turn left towards the south east as far as the main tarmacked road that runs across Llanos de La Pez. Here we change direction again: we have to turn towards the south west and walk along the concrete track towards El Garañón camp.
This track runs among fruit and pine trees and will bring us to another junction, where we turn right (PR GC60 towards La Goleta) into a track that gradually contracts down to a very narrow path which leads us down to the dam wall of Presa de Los Hornos; we walk across it and uphill again as far as the tarmacked road. There we walk down towards the south-west-west until we get to Degollada de La Goleta (connection with route 12), which is the starting point for the trail that goes up to Roque Nublo.
Stage 3: Degollada de La Goleta - Roque Nublo - Cruce del Aserrador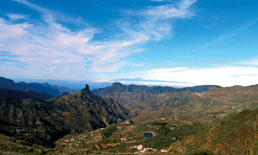 This stretch of trail starts at the parking area to be found at the outset of the trail that leads up to Roque Nublo; it steeply twists and turns uphill up to the mountain pass between the majestic Roque Nublo and the no less striking El Fraile. From here on we walk down towards the west, leaving Roque Nublo behind to our right (if so inclined, we can also go up to Roque Nublo itself before continuing on our trail) and at the next intersection we turn left (south-southwest direction) into a small basin. We walk on easily among small dry stone walls, ascend some rocky ground and then we go down again along a narrow path by the river bed as far as a small dam -Presita de La Embocada-, whose water is used to irrigate the fields we can see further down the hill.
Looking towards this small reservoir we can see that our trail veers towards the right (west-southwest direction). We first cross the bed of a small ravine and start our ascent, enjoying spectacular views of Risco de Chimirique towards the southwest and Risco del Laurel towards the east. We skirt the southwestern side of Montaña del Aserrador, and after 5 minutes we start a relatively steep descent that will bring us to a small plateau where there is a covered water deposit. From here we walk on along a tarmacked road in a northwest direction as far as Cruce del Aserrador, which brings us to the end of our trail.
Additional information about the trail
Tar kilns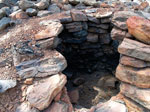 There were actually two different components, a kiln and a tar collection vessel. These two cylindrical structures were placed at different levels and separated by about two metres from each other, though communicated by a conduit.
The resinous wood of Canarian pine trees was burnt in these kilns to obtain the viscous substance known as tar, which flowed from the higher structure -the kiln- down to the lower module -the collection vessel- through the pipe that communicated both structures. Once cold and solidified, it would be boxed and carried down to the coast on beasts of burden.
Between the 16th and 19th centuries forest exploitation was widespread in Gran Canaria. Tar was used to waterproof ships and and the building and repairing of vessels generated a significant demand for it.
Even today there are some place names that evoke this activity, such as los Llanos de La Pez (the Tar Plains) or Montaña de Los Hornos (Kiln Mountain).
The Canarian pine tree (Pinus canariensis)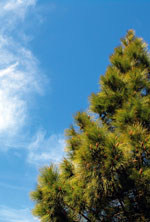 The Canarian pine tree, endemic to the islands, is a unique species. It is a vestige of the Tertiary flora, a gift nature has preserved alive on the islands.
Its habitat on Gran Canaria covers all of the high mountain region, where it forms monospecific forests that tend to be thicker in the north than in the south where, on the other hand, they might be found as low as 600 metres above sea level.
These trees might measure up to 30 metres in height and may live for centuries, withstanding high and low temperatures, even surviving fires thanks to their thick, humid bark and moisture retaining roots.
Their evergreen needle-shaped leaves grow bundled in clusters of three. Their male cones grow in clusters and are smaller than the female cones, which may reach a length of 20 cm; the latter are, in fact, what is popularly known as "pine cones", and their seeds (pine nuts) have wings that aid in their dispersal.
Pine needles retain a great degree of moisture, virtually "milking" different layers of fog and keeping waterdrops on their branches for a long time before dropping them softly onto the ground. They also retain water within their thick sponge-like bark. The result is that the soil under a pine tree is cool and moist.
As they fall, pine needles form an organic mould that in turn also retains the water fallen off the tree and stops it from evaporating once the sun rises. This organic layer feeds and enriches the soil, and it also provides small microorganisms with a habitat.
The pine forest is rich in fauna and flora; there are birds such as woodpeckers (Dendrocopos major ssp. than-neri), chaffinches (Fringilla coelebs ssp. tintillon) or Canary blue tits (Parus caeruleus ssp. teneriffae), as well as a great variety of insects. The most common plant species are thyme (Micromeria spp), the Canary Islands broom (Teline microphylla) and the Canary Islands rock rose (Cistus symplytifolius).
The pine trees powerful roots help in the process of soil creation, holding it together and preventing natural disasters such as landslides and the loss of soil caused mainly by heavy rainfall and their ensuing processes of erosion. They also contribute to the adjustment of groundwater table levels.
© 2010 Mancomunidad de Municipios de las Medianías de Gran Canaria